Design Your Own Tour

I can also run tours to any one of the following locations in Portugal, Spain and France. Just put together your preferred locations grouped by Campaign, Geography, or whatever criteria you prefer and I will tailor the tour for you and your group. A bespoke tour has a number of advantages; you choose the locations, the duration of each stay, the style and comfort of the travel and accommodation and whether you want to concentrate on a particular subject area or specialisation.
Portugal
Lisbon/Sintra
Lines Torres Vedras
Roliça
Vimeiro
Masséna's Retreat 1811
Sabugal
Buçaco
Oporto (Porto)
Soult's Retreat 1809
Braga (Lanhozo)
Almeida
River Coa
Barba del Puerco
Campo Maior
Elvas


France
Bidassoa
Nivelle
Nive
St. Pierre
Orthez
Tarbes
Bayonne
Toulouse
Spain
Alicante
Castalla
Denia
Valencia
Saguntum
Oropesa
Peñiscola
Tortosa
Tarragona
Hostalrich
Barcelona
Molins de Rey
Cardedeu
Gerona
Rosas
Figueras
Valls
Vich
Lérida
Mequinenza
San Sebastián
Castro Urdiales
Pamplona
Roncesvalles
Maya
Sorauren
Pyrenees
Vera/Bera
San Marcial



Spain
Coruña
Benavente
Cacabellos
Constantino
Ciudad Rodrigo
Cuidad Rodrigo West 1810
Border Skirmishes 1811
Fuentes de Oñoro
Salamanca
Salamanca Forts
Alba de Tormes
García Hernández
Tamames
Almaraz
Alcántara
Badajoz
Badajoz (Battle of Gévora)
Albuera
Olivenza
Cádiz
Barrosa (Chiclana)
Tarifa
Madrid
Somosierra
Talavera
Bailen
Alcañiz
Medellin
Burgos
Vitoria

Gunner Rowlands' Peninsular General Service Medal with 13 Bars.
By kind permission of FIREPOWER Museum, Woolwich, London.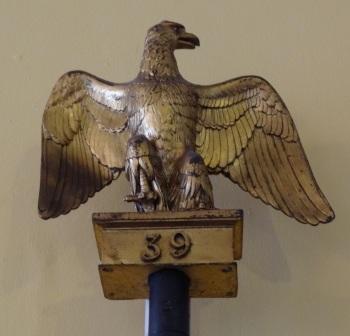 The French Eagle of the 39e Ligne, found in the River Ceira, Portugal in 1811. By kind permission of the Royal Hospital, Chelsea.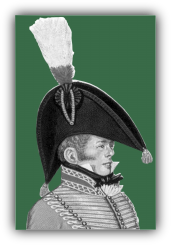 My advice is to be wary of a tour guide who purports to be able to run a tour of Marlborough's great victory at Blenheim one week and then deliver another tour on Stalingrad the following week. He is unlikely to give you a really professional overview and experience.

I can run tours that cover all aspects of the Waterloo campaign, including the French advance on the 15 June; the battles of Quarte Bras and Ligny on 16 June; the withdrawal of the allies (through Genappe) and Prussians on 17 June; the Battle of Waterloo on 18 June and the struggle at Wavre on the 18 and 19 June.